Pacific Light Studios helps businesses connect with their audiences and build credibility through professional, engaging photography and video. Our studio space is also for rent so you can create awesome images and media for your own business or clients.


Still Photography
Use professional and engaging images that reflect your brand.

Spin Photography
Let your audience see and interact with your product.

Videography
Create a compelling video that your audience will share.
Check Out Some of Our Work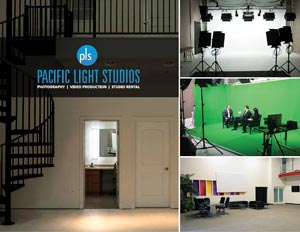 Pacific Light Studios Overview
Need quick studio rental information? This one page overview has the studio features and location information.
We get asked all the time to help create product videos explaining a certain technology or how a product or software works. Many times these are start ups or small companies with limited marketing resources and budgets. While it is not hard to create a 3-minute video showcasing a technology or product, we often find ourselves having a bigger discussion with the client about "why" I would want to buy what they are selling. Sell the Benefits [...]
We had an opportunity to to do a fun video for a solar client. They wanted to showcase the possibilities for integrating solar technology into wearables. In this video the wearable was a motorcycle jacket that collects sunlight during the day as the riders are out and then can power safety lights, provide connectivity and even a power a heater in a jacket. We spent an entire day out shooting for a 60 second video spot. Most [...]