Our Studio is Open.
Restrictions on crew & cast size may be required and all necessary safety protocols need to be followed when possible. (i.e. masks, distancing, etc). Contact us for availability and more information. Download Covid-19 studio protocol

Studio Rental
Our Sunnyvale/Silicon Valley-based studio is the perfect space for your next photo or video shoot. Professionally equipped with green screen, video & photography lighting, dressing room and reception/staging area, it's central Silicon Valley location is great for agencies and businesses that need a professional, clean location with plenty of off street parking.
Photography and Video Services
We can provide a team that has everything you need for your shoot whether it is onsite or on  location. Our professional team of creatives, photographers, camera operators, stylists, production assistants or any other talent you need, will help you make it happen.

Studio Rental

Fully equipped with green screen and pro lighting.
Photography
Use professional, engaging images that enhance your brand.
Video Production
Create visual stories that your audience will share.
Check Out Some of Our Work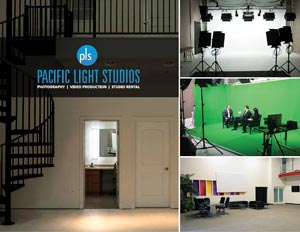 Pacific Light Studios Overview
Need quick studio rental information? This one page overview has the studio features and location information.
We get asked all the time to help create product videos explaining a certain technology or how a product or software works. Many times these are start ups or small companies with limited marketing resources and budgets. While it is not hard to create a 3-minute video showcasing a technology or product, we often find ourselves having a bigger discussion with the client about "why" I would want to buy what they are selling. Sell the Benefits [...]