RENTAL INFORMATION
Our studio is suitable for photography, video, livestreaming and webcasting use. Located in the Moffett Park area of north Sunnyvale, CA near Highways 101 and 237, the studio is in a clean, safe, quiet business park with plenty of free parking. (See map below).
Features
25′ x 30′ (studio)
35′ x 60′ (open floor space)
4′ x 8′ glass light board
12′ x 20′ Video Wall (2.9mm)
Private dressing room with makeup station
Large staging area
Backdrops and props
Cameras, teleprompter, audio gear available
Access to conference rooms
WiFi and wired internet access (up to 300/75 mbit)
Plenty of free parking
Air conditioning
Basic rental is dry stage studio with white or green screen backdrop. Other lighting, backdrops, green screen and equipment also available for rent.
Please note: Due to Covid 19 Protocols, each rental will require an additional $100 cleaning fee.
FOR RENTAL RATES, see pricing page.
Rental Times & Availability
Rental availability is Monday – Friday, 8am-6pm in the following blocks of time:
2 hour (minimum) plus 30 minutes for setup and tear down
5 hour (half day) – 8am-1pm or 1pm-6pm
10 hour (full day) – 8am-6pm
Weekend/holidays rentals are available at special request for an additional rental fee.
Bookings
A Booking is only valid upon receipt of a signed contract, deposit if required*, and confirmation by Pacific Light Studios. A certificate of insurance must be received prior to the booked date.
*For Studio Bookings with additional services, talent or staff provided by PLS, a 50% deposit of the full rental is required at time of Booking.
Cancellations
Cancellations prior to booking date are subject to the following charges:
14 days or more – 15%
2-13 days – 50%
Less than 2 days – 85%
Payment
Payment in full is due on or before the day of studio use, unless prior arrangements have been made.
Payment must be made in U.S dollars only and can be made with cash, check, credit card or PayPal.
Renter is responsible for paying any transfer or bank fees if payment is made electronically or internationally.
Insurance Requirements
Renters using the studio are required to provide PLS with proof of insurance if requested. If renter does not have insurance, all staff, guests, contractors and talent on-site with renter MUST sign a liability release form.
Check Studio Availability
To reserve the studio, check availability or for other questions, please complete the form below, or call 408-541-1800.
I need the studio for: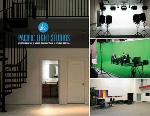 Rental Information Overview
Download this one page overview with studio features and location information.